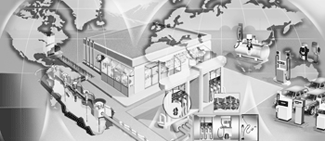 For over 25 years, ATC Eclipse has provided creative UST/AST compliance solutions for tank owners across the country. ATC Eclipse often works with clients who require specific solutions that benefits their business as well as meeting the rigorous environmental compliance requirements mandated by regulators.
We believe that leading compliance services companies should provide strong participation in industry associations and be actively involved in the petroleum arena. Industry wide participation of our management group has been an important philosophy of ATC Eclipse.
Operating out of 26 regional offices, our network of senior management teams and highly qualified personnel, are known for our high quality of work, coupled with leading edge technology systems and services. We offer unparalleled value to your business' bottom line.
ATC Eclipse provides unparalleled integrated UST/AST compliance management, real time release detection monitoring, inventory control systems, compliance testing, tank inspections/maintenance, training and electronic document warehousing services under one cohesive management program.
This is what we do. Every Single Day. We are specialists in providing Petroleum Fueling System management and field services to all sectors of the petroleum industry. From petroleum terminals to the corner gas station. There is no one size fits all approach to UST/AST compliance and management for an ever increasing complexity of tank regulations.
Our professional staff is comprised of tank specialists, compliance specialists, field technicians, UST/AST Construction professionals, UST system field testers and professional engineers.
ATC Eclipse is an extension of our client's personality and their philosophies. These two characteristics are critical ingredients of our services, allowing us to assist them in accomplishing their business goals.